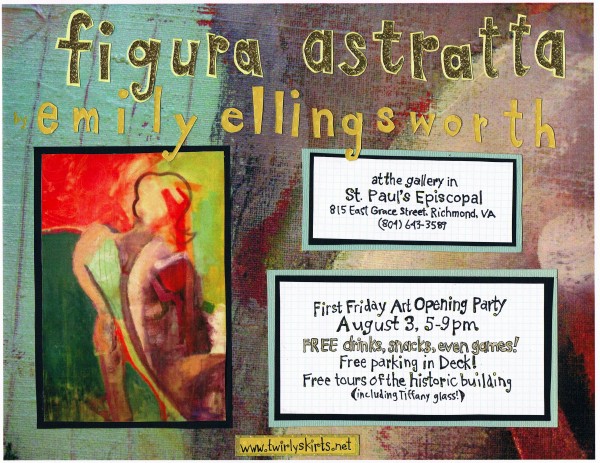 Come check out my art next Friday, August 3rd, in the Gallery at St. Paul's Episcopal. It's a really beautiful historic building. I have no affiliation to the church, I was just asked by a someone at a Richmond eats Richmond potluck to show at the venue for their First Friday series.
There will be FREE beer, wine, cocktails, and non-alcoholic punch. My mama and I will be cooking up some delectable snacks. My parents will be in from Indiana and they know how to throw an art opening party.
Free parking in the adjacent deck on 8th between Grace and Franklin, less than a mile from the other downtown Art Walk galleries.
We will also be playing exquisite corpse so those who haven't attended due to the bar venues can participate in a more low key atmosphere.
Kids welcome!
Come early for free tours of the historic building (including AMAZING Tiffany glass-and believe me I do not say that lightly).
(https://www.twirlyskirts.net/portfolio/category/exhibitions/figura-astratta/)